The Bouqs Co.
The Bouqs Co.
Blooming Disruption
Growing requires stability.
Industry
Floral
Presence
Global
Loving
Scalability
Fav Tool
Releases


Online flower retailer The Bouqs is disrupting and overhauling a global industry backed by the technology of Workarea Commerce Cloud.
The Bouqs
While the act of sending flowers is seemingly an easy one, the technology that powers it can be anything but. When John Tabis and Juan Pablo Montufar founded the The Bouqs, a cut-to-order flower delivery service in 2012, they set off on a bold mission. Their intent was to bring a sense of romance and delight back to what was once a noble exchange: the giving and receiving of flowers. Add to that their philosophy to build meaningful relationships with like-minded farmers and florists while empowering them to thrive, and eliminate unnecessary waste along the way.
The Problem

When launching its new brand from the ground up, the Bouqs needed an ecommerce platform that could manage complex logic that could easily communicate with its farmers to identify and forecast when flowers would be available.

Another key requirement was the ability to upload, edit and release rich content. From beautiful photography to video content about the farmers and deep product detail pages, a variety of business users would need access to manage content.
The Solution

As the industry disruptor, the Bouqs threw out the rulebook choosing to pave a new path when it hit the market. The company needed a commerce platform that contained a robust content management system and smart insights that not only enabled them to emphasis the story behind its product, but identified what aspects of the product where more appealing to its new customers. The Bouqs selected Workarea Commerce Cloud for its native content management capabilities as well as its sophisticated personalization and segmentation features and built-in subscription capabilities.
Content & Commerce

The Bouqs prides itself in its sustainable online retail practices. Featuring this aspect of the brand is a critical component of its marketing strategy. As a result, nearly ten percent of its under 100 person workforce is dedicated to authoring and distributing content on a day-to-day basis.

Utilizing the Workarea content management features, the Bouqs can easily tell its unique brand story in a way that is both eye-catching and informative. One area the Bouqs does this brilliantly is in its dynamic homepage. To keep the site as fresh as its product, the digital team utilizes the Workarea Site Planner feature to create and schedule marketing campaigns. Deployed on a weekly basis, a number of business users are able to identify which releases are set to launch and adjust marketing messaging as needed. Similarly, the digital team then incorporates these weekly promotions throughout the shopping experience.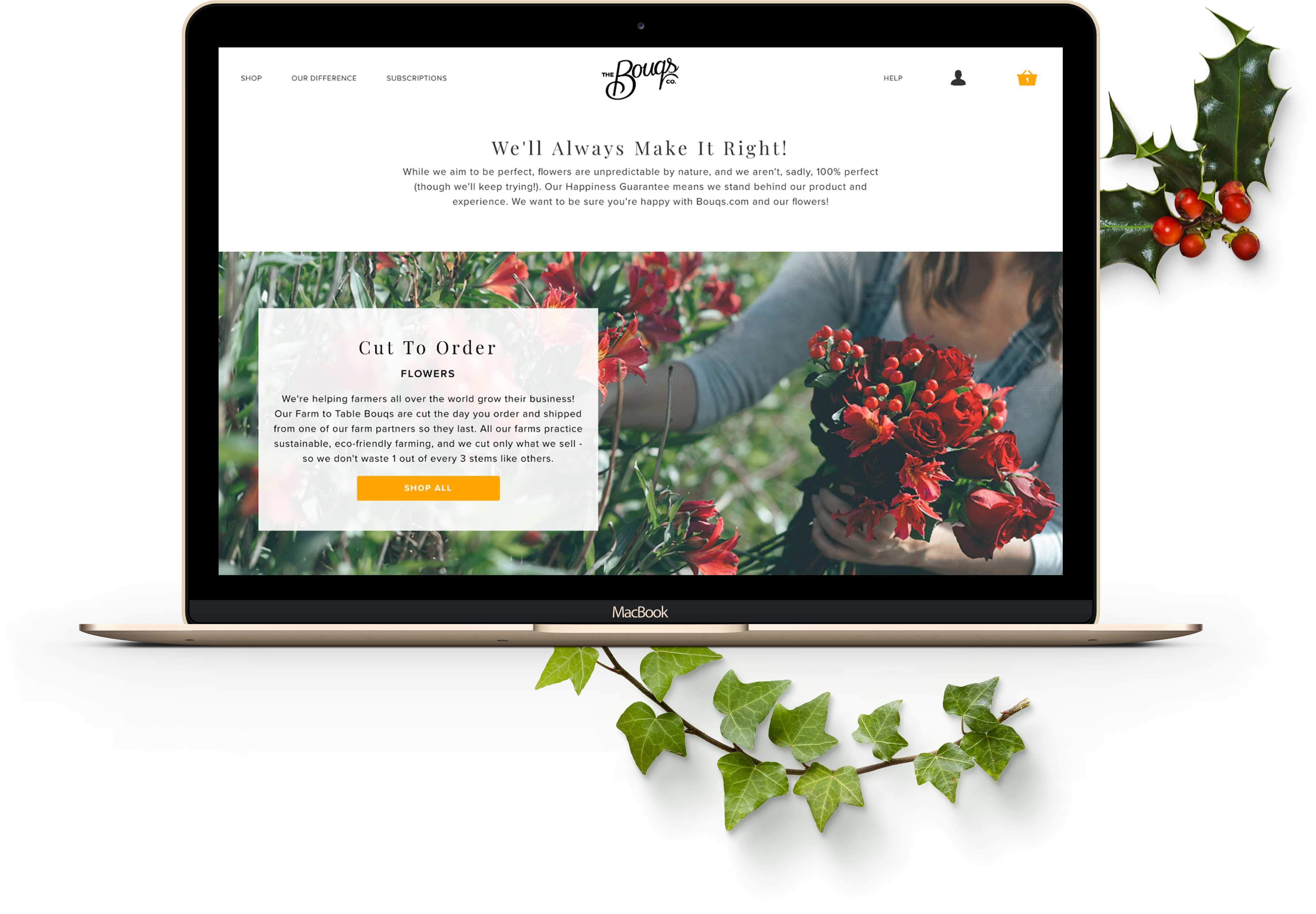 "What Workarea has really brought for the Bouqs is a home for our ecommerce."

John Tabis
CEO and Founder, The Bouqs Company








Ecommerce Technology for All Users
In addition to curating beautiful and timely content, the Bouqs needed an ecommerce site that would deliver quick and reliable shopping experiences. It had to keep up with complex logic; from implementing new filters, to forecasting which flowers will be available and promoting a rotation of featured products. The Workarea Commerce Cloud provides this technically sound foundation without having to build it from the ground up. This sense of confidence empowers its digital team to focus on continuing to enhance the shopping experiences.


Workarea Merchant Insights Engine
Before Workarea Commerce Cloud, the Bouqs created marketing campaigns based on what they thought would be interesting to their customers, including the unique fact that their South American farms were growing flowers on the side of a volcano. Using
Insights Reports
, the Bouqs was able to identify early on what really drives customers interest and conversions. Now empowered with rich data and insights, the digital team is able to react quickly to trends in the market and allow their content, design and marketing teams to build more effective campaigns.


Segmentation & Promotional Offerings
Another favorite feature of Workarea is its segmentation tool. Using the aggregated customer data within the ecommerce platform, the Bouqs can quickly and easily segment its VIP members. This empowers the team to focus less on identifying this user segment and more on crafted special promotions or incentives to them. As a result, the customer experience is heightened while speeding up the time to display relevant products to these shoppers.



Complex Subscriptions Made Simple
A big differentiator for the Bouqs is its unique subscription service. In addition to standard subscription offerings, customers are able to set up custom recurring orders based on special occasions or repeating events; such as anniversaries or birthdays. By facilitating these known user activities, the Bouqs is able to increase customer loyalty and retention.


The Preferred Platform
Workarea is the preferred Commerce Platform of choice for our amazing B2C & B2B retailer customers: