Breaking News: WebLinc Secures $6 Million Investment Led by Montage Capital and Partners for Growth → Learn More
Workarea Ecommerce Platform | Unified Admin


Say Hello to
Your New
Commerce Admin


Say goodbye to multiple log-ins and hello to a more efficient and collaborative way to work.

Site Planner & Release Automation

Collaborate with your team and schedule updates to content, products, categories and more all through the best publishing tool for commerce.


Streamlined Workflows
Each section of the admin has its own specific workflow so you can accomplish common tasks intuitively and in the least amount of steps.


Inline Insights
Inline insights have been added within workflows, starting with products and expanding to categories, users, orders and promotions.


Intra-Day Releases
Prepare, preview and schedule site updates without the need of a staging environment.


Search-First Administration
Using the same search as your storefront, easily navigate to any level of the admin.


Collaboration and Audit History
Enhance team communication and collaboration with an arsenal of tools at your fingertips.
Feature Spotlight:
Site Planner

Unique to Workarea, Site Planner allows you to seamlessly manage scheduled changes to your storefront.

Quickly review, edit and launch enhancements to pages, content, discounts, pricing, categories, products and navigation. Track all changes and share comments with team members. Preview and test everything in the tool before you set them live.
Site Planner allows your team to prepare and schedule site updates without a staging environment or pulling an all-nighter.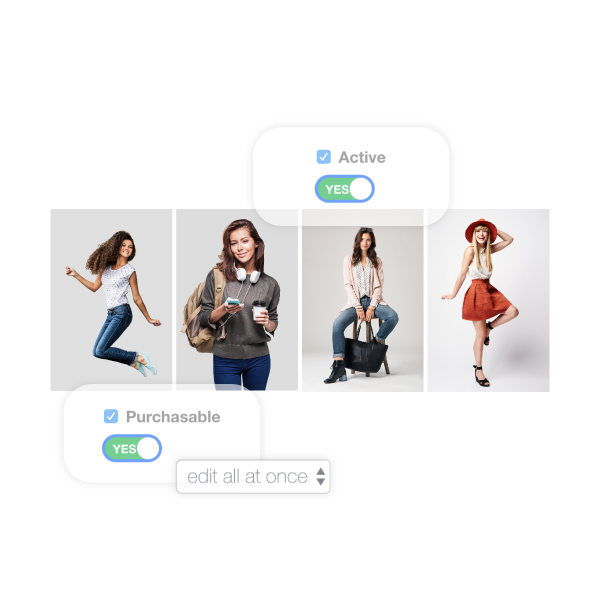 Feature Spotlight:
Bulk Editing
Replace manual updates with the Workarea Bulk Editing features. Select multiple products and then quickly add, edit or remove them all at once.
Archive last season's inventory, quickly setup a sale or apply a number of promo codes for a special event. With Bulk Editing, you can fulfill many orders, delete many files, or publish many products all at once. No more need for a separate PIM.