Platform Tour
Redefining the Platform for B2B & B2C Commerce




Workarea combines commerce, content, search and insights into one unified platform enabling digital commerce businesses to move faster and work smarter.
Whether you sell B2C or B2B, learn what makes Workarea the most modern commerce platform on the market.
Commerce Management
Workarea has the enterprise tools you need to sell faster than ever, including a powerful merchandising and discount engine that gives you the speed you need to compete.
• B2C & B2B Commerce
• Multisite Storefronts
• Product and Catalog Management
• Inventory and Pricing
• Promotions and Discounts
• Order Management
• Customer Service

Sell More
Search Management
Search is the backbone of Workarea because we know how well it converts. Whether in the admin or the storefront, every nook and cranny can be searched and managed.
• Product and Content Search
• Learning Search
• Search Merchandising
• Search Suggestions
• Search Reports
• Redirects
• Synonyms Management
• Advanced Catalog Queries
• B2B Catalogs and Pricing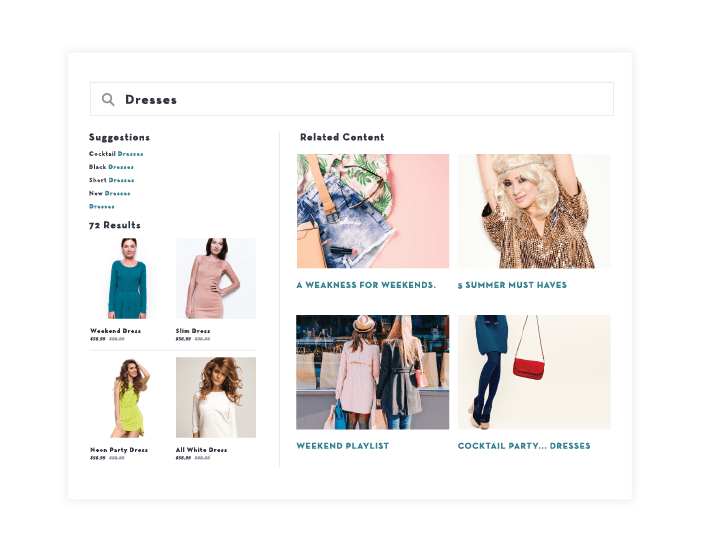 Content Management
Content is still king, and with Workarea, we put a crown on it. Create rich and compelling experiences for your customers with ease. Drag, drop, preview, and more.
• Content Management
• Search and Navigation
• Digital Asset Management
• Page and Layout Management
• SEO Management
• Blog Creation and Posting
• Product and Educational Content

Create More
Insights & Analytics
Turn your data into decisions with Workarea's insights engine. Quickly discover what's working for your team and drop what isn't. Insights will take the guesswork out of your day-to-day operations.
• Integrated Dashboards
• Inline Data
• Insight Engine
• Site Search Reports
• Alerts and Notifications
• Performance Reports

Learn More
All in a Unified Admin
Having the features you need is only half the battle. Our platform is built for both non-technical and technical users. Teams can collaborate, execute and perform with confidence.
Site Planner
Site Planner and Releases allows your team to plan, preview and schedule site updates without a staging environment
Collaboration
Foster collaboration and communication among team members with Activity Feeds, Timeline, Commenting, and Notifications.
Alerts
In Workarea, Alerts provide an extra layer of quality assurance. Catch empty categories, missing images, and everything else before your customers do.
Workflows
Workflows streamline the creation of products, categories, site navigation, discounts, assets and content.


On the Most Modern Technology
Workarea is built on the most modern web-application framework, Ruby on Rails. This affords a level of flexibility, paired with broad community support, that allows our users the elasticity they need to move fast.